The Go-To Company for Auto Electricians South of Perth
We all understand the frustration and difficulty that come with problematic cars, and unfortunately, no vehicle is impervious to electrical issues. Some problems seem small and easy to ignore, but the longer they're left to exacerbate, the more costly they become to fix. Plus, some problems are a matter of urgency, leaving you no other choice but to contact a qualified auto electrician in southern suburbs of Perth.
At Chamberlain's Auto Electrics, we can remedy any electrical issue, whether it's a packed up starter motor or a headlight replacement. Plus, we can repair and service the electrical components in any vehicle, from family saloons to earthmoving equipment, and we've been helping motorists return their cars to a pristine condition since 1983.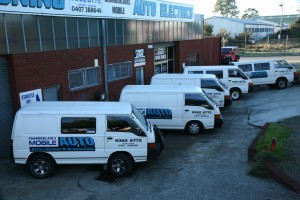 We only hire the very best auto electricians, certified repairers, and qualified air conditioning specialists in the industry, and we aim to be the best-value company south of Perth without compromising on the superb quality of our services. Of course, it's easy for any company to make such claims, but we stand out above the rest for the following reasons:
We have over three decades of experience
We're a member of the Australian Refrigeration Council (ARC) and only use environmentally friendly gases in AC unit installations and repairs
We have a fleet of repair vehicles that operate around the clock
We work with all types of vehicle, including cars, boats, and earthmoving equipment
Our warehouse boasts one of the most extensive selections of parts and components in Perth
Our employees undertake regular training to remain up to date with the latest and highest industry and safety standards.
No Job is Too Big for Our Professionals
We can tackle any auto electrical task regardless of your car's make and model, from simple headlight replacements to complex electrical systems diagnostics. Plus, we only use the highest grade components from respected manufacturers such as Hella, Bosch, and Philips. Even though our services encompass all things auto electrical, some of our specialities include:
Air conditioning maintenance, repairs, and installations
Stereo installations
Starter motor rebuilds
Alternator and instruments repairs
Trailer wiring
Alarm and central locking systems
We believe that there's no other auto electrician in southern suburbs in Perth that can repair auto electrical components better or more efficiently than our professionals thanks to our wealth of experience, in-depth knowledge, and genuine passion for the industry.
We Provide Assistance Whenever and Wherever Required
Because some electrical problems can prevent your car from being driveable, we proudly offer an emergency callout service with a fleet of fully stocked vehicles that can reach your location at any time. Whether you're stuck at work during rush hour or stranded in the middle of nowhere in the dead of night, we can send a qualified auto electrician to get your vehicle back up and running.
Thanks to the broad scope of our services, the ability to complete tasks efficiently and professionally, offering an emergency 24-hour callout service, and being able to reach your location rather than demand you bring your vehicle to us, our brand has become associated with excellence in the auto electrical industry. Call us today on (08) 9362 6772 when you require assistance from an auto electrician in south of the river in Perth.