Alternators Perth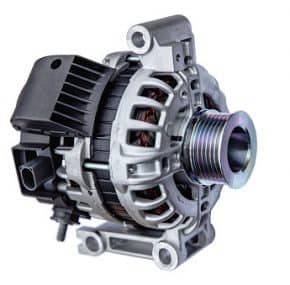 At Chamberlain's Auto Electrics, we are experts in the field of car alternators! We supply and install units to suit most vehicles and take great pride in rebuilding alternators.
The car alternator is one of the main components of your car's electrical system. It provides power to the battery when the engine is running.
If the battery warning light appears on your dashboard, it's important to have your electrical system tested immediately as your battery power may be reduced. This could make your system's voltage erratic, and in turn, cause extensive damage to your vehicle's electronics. Although it has a big responsibility, our alternator cost will have your pockets smiling.
If your alternator is faulty and requires repairing or replacement, we're here to help!. We use the latest diagnostic tools to assess your alternator and determine faults. Our expert team are proud to be able to work with and offer a huge range of different kinds of alternators.
Alternator Tips
If the battery warning light appears on your dashboard, conserve battery power by turning off the heater, the rear demister, the stereo, and the headlights (if you can) – you might just make it to the nearest service station.
All our parts are sourced from trusted manufacturers at competitive prices. At Chamberlain's, our team will do the very best to assist with your vehicle parts to keep you moving. For more information on our alternators or service, contact us today. 
Read our tips on preventing alternator problems here.